SPOILER ALERT

So if you ignore every single James Bond film between the Man with the Golden Gun and Die Another Day, I have finally caught up on James Bond.
How it all goes down:
The film opens in Mexico with James Bond (Daniel Craig) hunting down Marco Sciara, an assassin behind a terrorist attack. Bond kills Sciara, but having stepped out of line once too often, he is taken off field duty and grounded. Disobeying direct orders, he travels to Rome to attend Sciara's funeral and discovers that he is a member of Spectre, a criminal organisation that makes its first appearance since Diamonds are Forever. Bond finds that Spectre is being headed by Ernst Stavro Blofeld (Christoph Waltz) and works to stop his plan to gain political power through his Nine Eyes Program. The Nine Eyes program is designed to replace the 007 program by instead constructing a global surveillance and intelligence co-operation initiative between nine member states.
What worked:
What struck me instantly about this film was Daniel Craig. Whilst, I didn't like his portrayl of Bond in Casino Royale and Quantum of Solace, I feel that he has relaxed more into the role within Skyfall and Spectre. The opening chase scene sees him calmly walking across the Mexican rooftops. He does this confidently and suavely. If this was Casino Royale of Quantum, I would have half-expected him to fall off.
Similarly, to Skyfall, I also really liked this film due to how it was so character-driven. Bond attends Sciarra's funeral to honour Judi Dench's M's final wishes. He takes care of Madeline Swann (Lea Seydoux) after her father, Mr White, kills himself. I really liked the character-driven plot, as it made the film more identifiable and relatable. I thought the broken family narrative worked well, as it is something that audiences could relate to. It gave the film a good dramatic tension and kept it engaging. Seeing the different characters interact with each other was much more interesting than watching explosion after chase scene after explosion after chase scene after explosion after chase scene after explosion. That was tedious and repetitive right? Now you know how I feel after having watching Quantum of Solace.
(http://www.jbsuits.com/blog/wp-content/uploads/2014/12/mr-whtie-in-spectre.jpg)
The acting was great all around. I've already mentioned Daniel Craig, but special mention has to go to Christoph Waltz. Despite not having the most screentime, Christoph Waltz dominates and controls every scene that he appears in. He is calm, calculating and utterly enthralling. I also thought that the supporting cast were very good. Ralph Fiennes, Naomie Harris and Ben Whishaw who play M, Moneypenny and Q respectively played very well off each other. It was nice to see the three of them actually do something in a film, as they all work well together.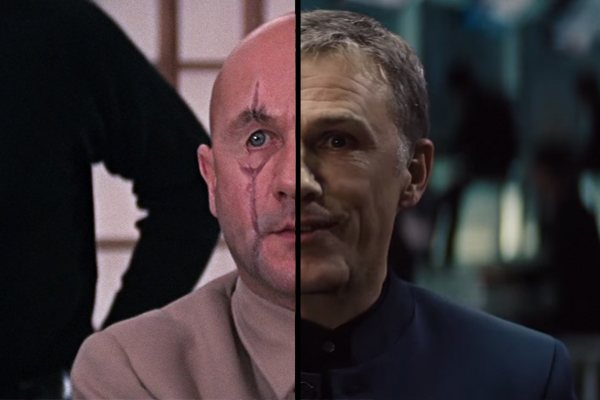 (http://cdn3.whatculture.com/wp-content/uploads/2015/09/rQDxg4uT.jpg)
One of the most enjoyable things about this film though was Madeline Swann. It was great to see a Bond girl do something more than just have sex with Bond and die. I really liked her character and Lea Sedoux portrayed her well.
What didn't work:
Thinking about it now, I think that the narrative wasn't as strong as it could be. Whilst I really liked M, Q and Moneypenny working together in London to prevent C, the head of newly merged MI5 and MI6, from launching the Nine Eyes Program. I find it a little disappointing that Ernst Blofeld had orchestrated the Nine Eyes Program. I just think that this is a little unimpressive for Blofeld. C was a strong enough villain to carry the Nine Eyes Program narrative and Blofeld could have had a separate narrative or one that went a little further than just gaining political power by creating a global surveillance network. As leader of a criminal organisation, I expected Blofeld to be more ambitious than that.
(http://cdn-static.denofgeek.com/sites/denofgeek/files/2015/10/687883034_4577646271001_spectre-c.jpg)
What was Ugly:
Mr Hinx, Blofeld's violent enforcer, is introduced in a scene where he gouges out somebody's eyes, which was definitely the ugliest scene in the film.
(http://d.christiantoday.com/en/full/33972/spectre-mr-hinx.jpg)
Rating:
Good.
So, this film is good. I thought the acting was commendable, the supporting cast was strong and Daniel Craig was great as Bond. It's just a shame that Blofeld's motivations as a villain weren't nearly as ambitious or convincing as I expected them to be. Either way, as Spectre was the villain that James Bond encountered in Dr No,it still very much is the Godfather of James Bond villains.